Welcome back, sister. What words thrown around the business space annoy the heck out of you? I'm betting at least one of my four words in today's episode rank right up there. However, these four annoying business terms are going to be important for you to skyrocket your business in 2022!
However, we're going to look at how to handle these words in a positive way so you can move forward with clarity and ease! Today we're going to take ownership of these words. We're going to stop letting anyone else define them for us!
Listen in to find out more about these 4 annoying business terms, including:
Why these words are annoying
Why I believe they are important for your business
Better ways to look at them so you aren't getting annoyed but use them as fuel for growth in 2022 and beyond
If you prefer video, press play below and learn what helps me deal with these popular terms in a more positive way
Before I give you a little more info about today's episode, I just want to say thank you. to each and every one of you for listening to the podcast. We reached my goal of 50.000 (yep, 50K!) listens! If you haven't, leaving a written review with your rating on iTunes is an amazing way to support the show! I promise you, I read every review and take them to heart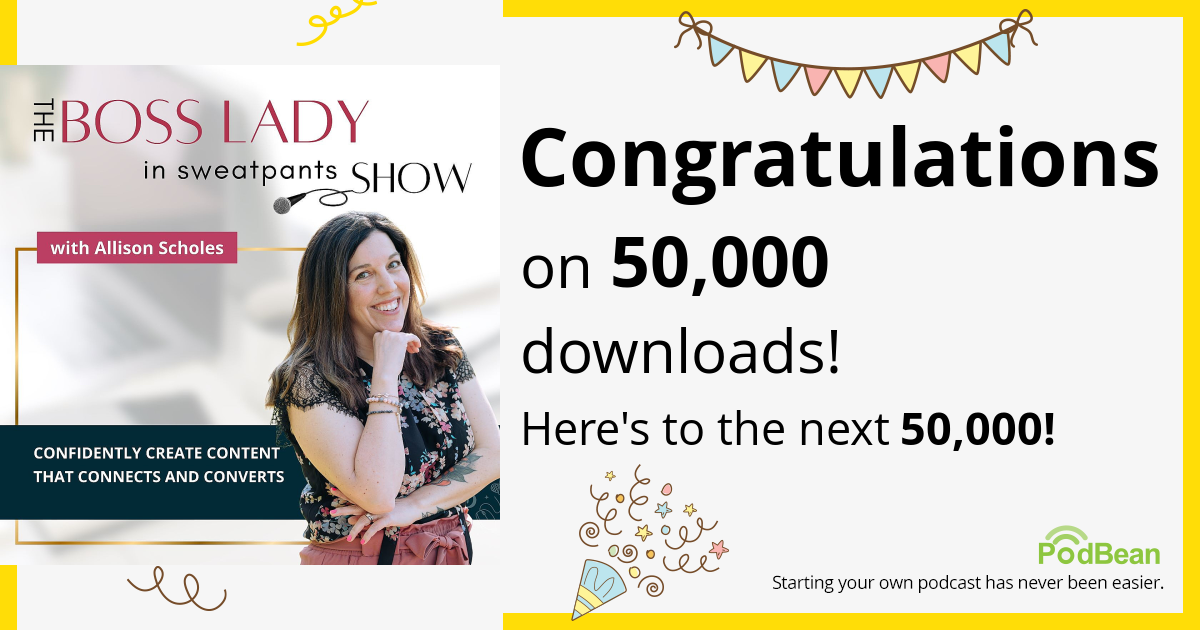 Now, I bet you're wondering which 4 words are so annoying they were worth a full podcast episode! I'm going to make you listen to find out for sure, but you may find a few hints below. And I quote one of my favorite mentors. Can you guess which one?
Press Play To Find Out Who It Is As Well As:
What is branding anyway
What do personality and experience have to do with anything
Why you can (and SHOULD) define these on your own terms
How taking action to set your own consistency pattern is a big part of your business growth in 2022
Are you ready to skyrocket your business in the new year? Then grab something to drink and some Christmas dinner left-overs and let's dive in!
Full Transcript Below!
Before you go, I'd love to connect with you and give you some gifts to help you grow your online presence!
Instagram @allisonscholes
Facebook Group: https://www.facebook.com/groups/socialmediaformompreneurs/
Work with me: https://bossladyinsweatpants.com/coaching/
Free Caption Templates: https://bossladyinsweatpants.com/free-captions/
Personal Branding Workbook: https://bossladyinsweatpants.com/rock-your-personal-brand/
Hang with me on Instagram
Email: [email protected]
"Stay sassy, sparkle, and wear sweatpants!"
PS. Be sure to join my free online community for mompreneurs! Join here.
---
Enjoy These Hand-Picked Episodes To Learn More About Skyrocketing Your Business in 2022.
Please follow and like us: